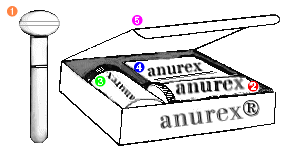 _
ATTENTION!
DO NOT ATTEMPT TO STERILIZE BY HEATING OR BY BOILING!.
*TO MAINTAIN THE FULL COOLING EFFECT, IT IS RECOMMENDED THAT ANUREX® MUST BE REPLACED AFTER 6 MONTHS OF USE.
_
IMPORTANT!
FOR FASTER AND BETTER RESULTS WE DO RECOMMEND 2 ANUREX® PER PATIENT. USING ONE PROBE AFTER ANOTHER WILL PROLONG COOLING EFFECT ESPECIALLY IN SEVERE CASES.
Step 1

Place Anurex® sealed in its reusable Poly Bag, in the freezer compartment of your refrigerator. Allow to freeze for at least 2 hours. Be sure that your freezer is sufficiently cold to freeze ice cubes. Otherwise Anurex® therapy will not be effective.
Step 2

Remove Anurex® from its reusable Poly Bag and apply Anurex lubricant to the probe. You are now ready to insert the probe into the rectal area.
Step 3

To facilitate insertion, lie on your side in a comfortable position: then bend the knee of your top leg and bring it up towards your chest. Gently insert Anurex® into the rectum up to its base. Once in place, leave Anurex® in position for 6 to 8 minutes. depending on the severity of your condition. Anurex® is designed to deliver its beneficial effect over the 6 to 8 minutes it takes to warm to body temperature. Once at body temperature, Anurex® should be gently removed. No additional beneficial effect will be realized by leaving this probe in place after that time. PLEASE NOTE THAT FOR RAPID AND EFFECTIVE TREATMENT, WE RECOMMEND THE USE OF 2 SETS OF ANUREX PER PATIENT (USING ONE PROBE AFTER ANOTHER). SEVERE CASES HAVE REPORTED IMMEDIATE RESULTS BY USING THIS DUAL METHOD.
Step 4

Remove Anurex® and wash thoroughly with soap and warm water. If desired, Anurex may be rinsed after washing in any medical disinfectant such as Dettol.
Step 5

Replace Anurex in its reusable Poly Bag and return it to your freezer. Allow 2 hours refreezing time before each treatment.